CATERING QUESTIONS AND ORDERS
Need A LOT of donuts? We can do that! To place an order, click on the "Order Online" tab at the top of the page.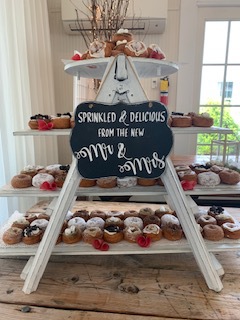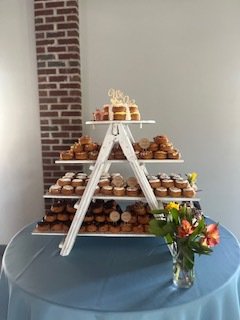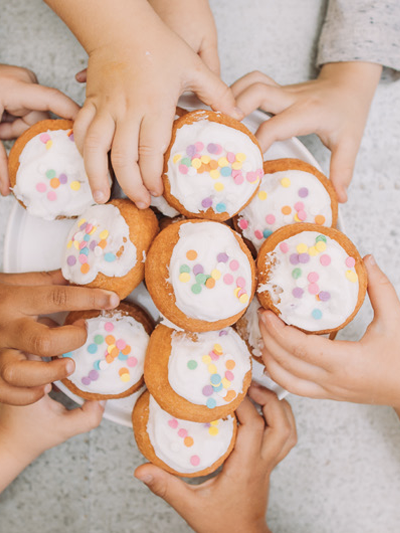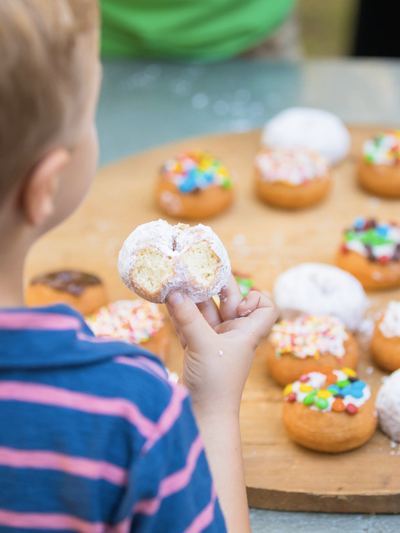 DONUTS FOR THE GROUP
Choose from our 16 most popular donut flavors, made fresh daily.

3 DaVINCI'S DOZEN - $50.25 (1-25 people/48 donuts)
6 DaVINCI'S DOZEN - $100.50 (26-50 people/96 donuts)
9 DaVINCI'S DOZEN - $150.75 (75 people/144 donuts)
12 DaVINCI'S DOZEN - $201 (100 people/192 donuts)
Individually packaged donuts available for $1.50 each.
CUSTOM CATERING
Having a wedding, shower, graduation or other special event? We can create custom colors or donut flavors invented just for you to make your event even sweeter.

50 PEOPLE - 6 DaVINCI'S DOZEN $120
75 PEOPLE - 9 DaVINCI'S DOZEN $180
100 PEOPLE - 12 DaVINCI'S DOZEN $240.00
125 PEOPLE - 15 DaVINCI'S DOZEN $300
150 PEOPLE - 18 DaVINCI'S DOZEN $360

Delivery and set up available $75.
Display rental also available.
Local sales tax not included.
EVENT SPACE
Make your event sweet, from baby showers to birthday parties, rent our DaVinci's Donuts cafe. A 2 hour rental includes coffee and donuts for up to 30 guests for $195.00, after normal operating hours.
Community Involvement
We love our community. Plan a "give back" event at your local DaVinci's Donuts and we will contribute to your school or organization.
Sandy Springs
5610 Glenridge Dr. Suite 103
Sandy Springs, GA 30342
678-951-0975
Dawsonville
145 Dawson Forest Rd. E #455
Dawsonville, GA 30534
(In the Publix at Dawsonville Crossroads Shopping Center)
706-974-8562
Lenox Square Mall
3393 Peachtree Road KI17
Atlanta GA 30326
(In our new container store in the parking lot by valet parking and near the Westin)
678-897-1865